…and other questions you are afraid to ask.
What is an IOP?
IOP stands for "Intensive Outpatient Program" and is the standard name for a mental health or chemical dependency group that runs 3-5 days a week, 3-4 hrs a day to focus on a specific set of mental health symptoms or diagnoses. IOP is often recommended for people experiencing moderate to severe symptoms that interfere with life, for those that individual therapy is not enough support or as effective as hoped, and for those transitioning from a higher level of care such as inpatient or residential. While in the IOP, in addition to group, you would continue to work with your individual therapist, medical provider and a dietitian (if needed).
At WECHC, we have adult and adolescent IOP's with specialized focuses in either eating disorders (ED IOP) or depression, anxiety, and trauma (DAT IOP).
Click here for more info.
Why is it called intensive?
While the word can be intimidating, in general, "intensive" implies a concentrated focus on or thorough exploration of a specific subject. In this case, that subject area includes your particular mental health struggles as they interfere in your daily living. In the world of mental health, intensive includes more thorough attention than you might receive in a less intensive approach, such as seeing an individual therapist once weekly, and less attention than you would receive with a more intensive approach such as hospitalization.
How long will it take?
We recommend that you plan on 6-12 weeks at a minimum within programing. This can vary depending upon symptom severity and life circumstances. We have conducted some of our own research on outcome data and have found the most benefit was received from clients who were in programming 10-12 weeks. We know this can be an intimidating length of programming and the balance of support and still maintaining "real life" has proven effective for many.
What if I have a bad day, do I have to come?
Yes! In fact, IOP is perhaps most useful on one's "bad" days. What we know about depression and anxiety is that they often increase our urge to isolate which can lead to a further sense of disconnection and hopelessness. Thus, using IOP as a way to get support and practice using resources is going to be the most beneficial in the moment; doing so will also best prepare you for how to effectively respond to such difficult days long into the future. That being said, exceptions to program attendance expectations are made for emergencies on a case-by-case basis.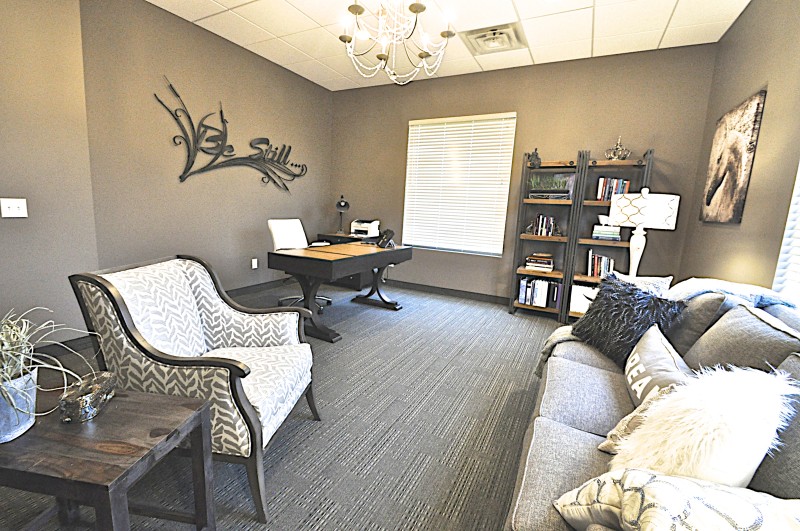 Would work need to know?  Family?  Friends?
What you tell your work and your loved ones about your time in IOP is entirely up to you. HIPPA laws prevent you from having to tell your work the specifics of why you need the time away other than to support your health. Regarding loved ones, statistically it has been shown that people maintain progress more effectively when they have a strong network of support. Towards that end, we encourage clients to practice healthy boundaries in discerning who in your life are safe people to trust with the specifics of your treatment. IOP team can help you navigate those decisions and conversations throughout your time in the program.
How do I make it work with my job/school?
Ultimately, we are each most effective at our jobs/school when we are at our healthiest mentally and physically. Thus, if you are considering IOP, this may be a time in your life when you need to prioritize your health over your work or academics.
That being said, most clients access an FMLA or short-term disability policy in order to keep their jobs safe while they get the help they need. Depending on the flexibility within your job, you may be able to attend IOP while working full-time outside of IOP or simply reduce your hours at work to accommodate both.
We also collaborate with schools and academic counselors to best determine a balance of treatment and academic progress for each individual. We have recently added an Education Support component to our adolescent IOPs for those clients needing further academic support and collaboration.
What are the other people in group like?
Our IOPs are open to males and females of the same age group as you (either adolescents or adults) and are made up of a variety of people (no more than 10) at any point in time. All members have experienced their current mental health symptoms and struggles to be life interfering in such a way that they are in need of the support of an IOP level of care.
Do I have to talk?
We understand joining a group can be difficult so we allow time for you to settle within your surroundings and with group members. We also know the power in utilizing support, experiencing a sense of belonging and the healing that can occur within the group setting.   So you will be encouraged to share and express yourself, but in respect to your boundaries and ability. (It's totally ok to simply observe your first day too!)
What do I do for 3-5 hours?
Because WECHC believes in a bio-psycho-social-spiritual approach our programs are designed to reflect that and bring you to a greater understanding of how these areas can contribute to your growth and healing. You will be educated on and practice much of what you learn right in group, so you can then begin taking the steps to apply what you've learned outside of WECHC. Each day programing will include a process group; this is time to reflect, share and receive support on what is currently going on in your life and perhaps how symptoms interfere; at least one day per week there will be an emphasis on skill teaching with the goal to acquire skills that aid in reducing distress and symptoms; this skill teaching often weaves its way through and is reflected in spirituality group, recreational therapy and movement throughout the week; and you will have daily check-ins, goals and a snack. … Oh and yes, you do get a break!
Why do we have snack?
WECHC believes in a biological, psychological, social, and spiritual approach to care and healing. Eating snack is one way we attend to our biological need for food and hence for energy. Research demonstrates the impact proper nutrition has on our mood and eating regular, balanced snacks and meals can be one of the simplest resources to managing our mental health symptoms.
Is it just one therapist for all those hours?
Definitely not. We have a team of therapists, dietitians, recreational therapists, chaplains and health educators ready to provide their area of expertise during different components of programming. This team will be consistent within your designated IOP.
Will my child/loved one be better after attending?
Intensive Outpatient Programing is designed with emphasis on acquiring coping skills and stabilizing symptoms. While many can experience great healing and demonstrate an ability to manage symptoms upon completing IOP, for others it may take more practice and application of skills before more noticeable improvements are made.   We work closely and collaboratively with your individual therapist and other providers to make sure treatment plan goals are appropriate and obtainable.
Further Questions?
Call us at 952.898.5020
Or Contact Us
Check out what our Team Leaders have to say about the benefits of IOP.